If age verification is needed for roster then an age cutoff date can handle that along with seasonal divisions with ages assigned to them. Below you will find the process of setting this up.

Setup Season Registration

The first thing that needs to be done is enable Season Registration so Coach accounts will be required.

If this was setup after teams have already registered then verification can't be made on those teams unless they try to update a player.
Click Seasons
Click Season Name or + Season
Enable Season Registration
Enable Required Season Division, Lock Season Division and set an Age Cutoff Date and click Save

Setup Season Divisions

Next Season Divisions need to be setup and attached to event divisions if necessary and this will enable teams to select one and lock them in at that season division for all events. An event director has the ability to change it if necessary. If you are already on the Season Details page click Divisions in side menu.
Click Seasons
Click Season Name
Click Divisions in side menu
Fill out required information and also Age and click Save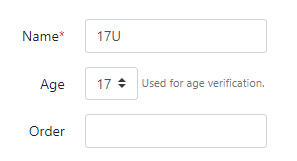 If you want to assign these Season Divisions to Event Divisions, say for Rankings, you can do this from an event division details page. If you have multiple events setup with divisions then you must do this one at a time, otherwise setup an event with all divisions created and assigned season divisons, then copy them to other events for bulk updating.
Click Events
Click Event Name
Click Divisions in side menu
Click Division Name
Choose Season Division and click Save