AAU licensed events that are marked in Exposure can take advantage of AAU roster verification functionality, layouts and reporting.


Enable AAU Licensed Event
Before activating any AAU functionality the AAU Licensed # must be available and turned on with the steps below under an Event Director accoun.
Click Events in

side menu

Click Event Name for Event Details
Find Certifications under the Event Description section
Enable AAU Licensed and enter the AAU Licensed #

Once the event is marked as AAU Licensed you will get new columns on Teams, Coaches and Players table views showing if the entire roster or roster entities are AAU membership verified. Below you see a team that has all coaches and players vertified with AAU memberships while the other is not.



Below are the different status icons for the AAU # column.
AAU Logo - Team, coach, or player is verified
Transparent AAU Logo - Team, coach or player is NOT verified or is expired.
Spinner - AAU verification is being processed (This only happens on import where multiple rosters need to be processed in the background.)
Rosters
The team AAU Club Code and coach/player AAU Membership ID fields are hidden until the event is enabled as an AAU Licensed event, and visible afterwards but optional.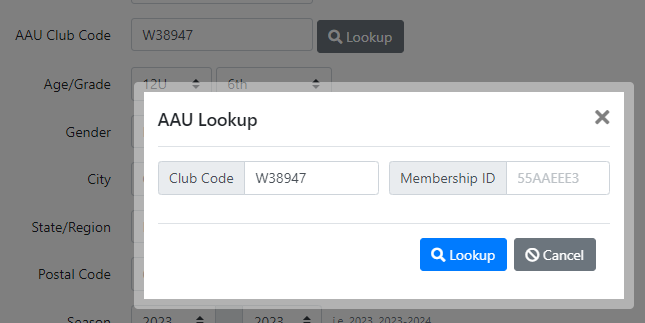 You can also add coaches or players manually one at a time and provide a Membership # along with another piece of information to verify the AAU membership.


If a roster is being imported manually from a file and it contains AAU Membership numbers, they will be processed behind the scenes to verify the AAU Membership numbers are valid instead of hitting the AAU system multiple times on an import.

Event Registration
If you want to make these AAU fields required for the team, coach, and player they need to be enabled under the Edit Team Fields and Edit Player Fields under the Registration section of the Event Settings page.
Click Events in

side menu

Click Event Name for Event Details
Click Settings in

side menu

Open the Registration section
Under Edit Team Fields, add AAU Club Code and Primary Contact AAU Membership ID and make them required or hidden.
Under Edit Player Fields, add AAU Membership ID and make it required or hidden.
This will also enable the fields under Coach Accounts where teams might already exist.


Reports
Event Directors will have an AAU Roster report that will show details on a teams roster that includes AAU Membership numbers. You can print the entire report from the Event Reports section or go into the Team Reports section for individual reports.

All Teams Report
Click Events in side menu
Click Event Name
Click Reports in side menu

Individual Team Report
Click Events in side menu
Click Event Name
Click Teams in side menu
Click Team Name
Click Reports in

side menu
Coaches will also have this report under there coach account Teams section if they are playing in a AAU Licensed event.