Below you will find how to delete pool games, bracket games or the entire schedule created in the platform.
Delete Single Pool Play Game
A Pool Play game must be deleted on the Schedule Grid page and can be accomplished with the following steps:
Navigate to the Schedule Grid (Events -> Click Event Name -> Click Schedule link in

side menu

.)
Double click the game in the grid or unscheduled games.
Click the Remove button


Delete Multiple Pool Play Games
Multiple pool play games can be deleted from the Schedule Grid page.
Navigate to the Schedule Grid (Events -> Click Event Name -> Click Schedule link in

side menu

.)
Click the Delete button bottom right
Choose Delete Strategy of Only Games
Choose Division
Choose Scheduled and/or Unscheduled checkbox
Click Delete Games button


Delete Single Bracket Game
A Bracket game must be deleted on the Bracket Builder page and can be accomplished with the following steps:
Navigate to the Bracket Builder (Events -> Click Event Name -> Click Brackets in

side menu

-> Builder button in row.)
Hover over game that needs to be deleted
Click red X button and confirm deletion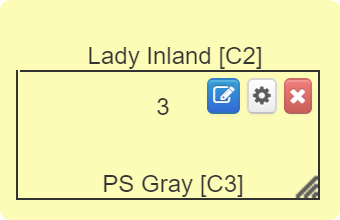 Delete All Bracket Games
To delete all the games in a bracket follow these steps:
Navigate to the Bracket Builder (Events -> Click Event Name -> Click Brackets in

side menu

-> Builder button in row.)
Click the Delete button bottom right
Confirm Deletion


Delete Entire Grid
If the entire Schedule Grid needs to be deleted, including all pool play games follow these steps:
Navigate to the Schedule Grid (Events -> Click Event Name -> Click Schedule link in

side menu

.)
Click the Delete button bottom right
Choose Delete Strategy of All Games And Grid
Confirm Deletion
Click Delete All button