NBN23 will give you a fully integrated digital solution that will help you collect, report game scores and display LIVE stats for all your games. A software imagined for amateur basketball tournaments and leagues that will offer organizers a chance to operate a digitally integrated event. It also gives players the exposure they seek and coaches the ability to analyze their games as well as their opponents.
Benefits
Automated final score submission
Automatic team qualification to next rounds
Digital scoresheet is automatically uploaded for each game (easy NCAA reporting with bulk download)
Same staff, more data
Paperless
Live stats
Additional Revenue generator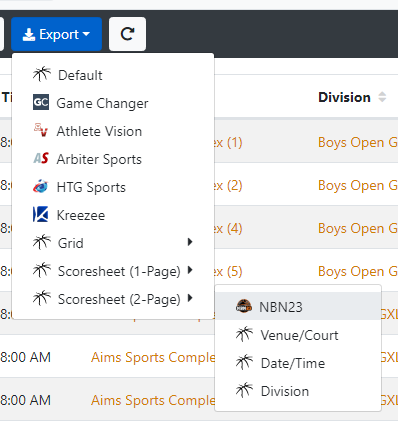 (Exporting a .zip file of all scoresheets)


Exposure Setup
Contact rafa.vidaurreta@nbn23.tech to set up your partnership.
Add a "Scorekeeper" user with a unique login for each event.
Receive a user credentials via email.
Enter Rosters into Exposure.
Sign into InGame and download the games you want to digitize.
Start scoring the game.
Uploads of game scores and all communication back to Exposure Events is handled by the app.
Read below for a quick setup.
For Fans
Share the SWISH download link with teams, coaches and fans
Fans will be able to view live scores, stats with graphics, play-by-play, box scores, shot charts, and much more all from their home or from the bleachers at the game.
Players love to see their performances and coaches will have a better understanding of their own team and be better prepared to face their next opponent. NBN23 is the future of digital scorekeeping.
Once you are a part of the NBN23 universe you will have many more opportunities to create and sell digital products that benefit your organization, your teams, and the entire community.
Check out the NBN23 & Exposure Events integration for more information.


InGame (Scorekeepers)
Before you start digitizing games, make sure to complete the online training and get your NBN23 Digital Certification. It shouldn´t take longer than 25 minutes.
The following screenshots below are taken from InGame 2.0.21
Open the InGame app on an Android device and access with the credentials of the Scorekeeper Account you created on Exposure Events.



Download and select the game you want to digitize by checking the matchup, date and time. Then SAVE it.



Check theroster with the coaches before each game and edit their jersey numbers accordingly. Select the players and staff for each team, click confirm and start digitizing the GAME.



Download the Swish App on your device and follow events, teams and players, view the schedule, play by play, box scores, shot charts, and much more. All this information will be LIVE as soon as the game is started!