Apple is requiring organizations to have their own Apple account to maintain their app and pay the yearly membership fee of $99 unless you are a non-profit in which case the fee is waived.
This is just a ploy to increase profits by having the customer pay a yearly fee to keep it available. Therefore please follow the steps below on creating an Apple Membership and read all steps before starting.
Non-Profits

If you are a non-profit, school or government entity, you can waive the $99 yearly membership fee from Apple. Please do not pay the Apple membership fee if you go this route.
Apple Developer Account Setup
Login with existing Apple ID or create a new Apple ID. You can use your existing Apple ID.
Once you are logged in start the enrollment process BUT choose Company / Organization or Government Organization for the Entity Type,

NOT INDIVIDUAL
Note: Apple requires us to submit apps under a company account, not personal


DUNS number troubleshooting
If you run into issues with Apple accepting your DUNS number you received please contact Apple about the error you are receiving with your DUNS number and wait for their reply on what next steps are.


Granting Exposure Access
This allows Exposure access to submit an app or any updates required to the app, provisioning profile, distribution certificate or push notification certificate on your behalf. Follow the steps below to grant access to your Apple Developer account.
Navigate to https://appstoreconnect.apple.com/ and log in with your credentials.


Click on Users and Access button.


The Users list will show and next to the heading you can click on the + sign to add a new user. View screenshot below for details.


Next, you will enter the user information for this new account in iTunes Connect. The most important piece of information is the Apple ID which is apps@exposureevents.com. You can use first name of Exposure and last name of Events.


Check Admin role under Roles.


Finish by clicking the Invite button.


The invitation will be accepted by one of our Exposure employees in which case we will have access to upload or update your app.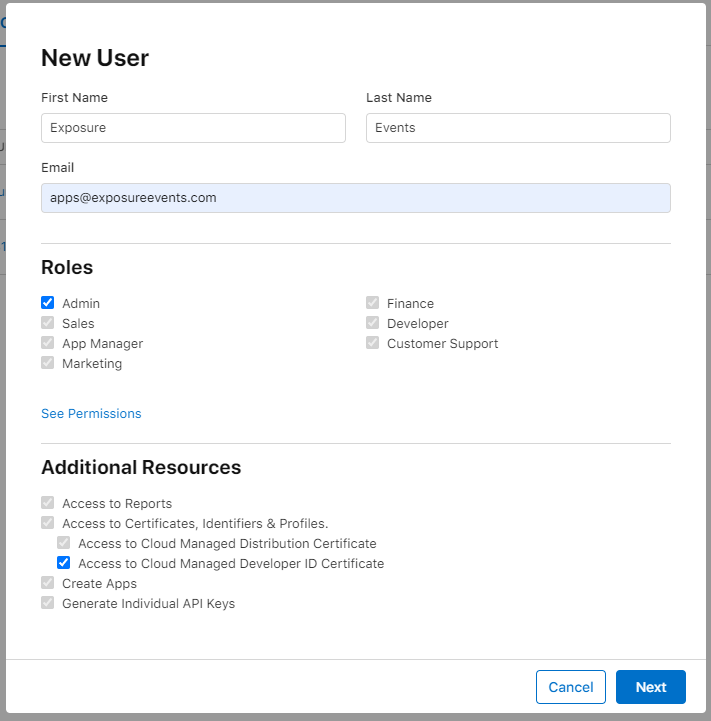 You have successfully invited Exposure to handle all app publishing matters. For more details on any of the aspects mentioned above, please contact your appointed Exposure representative.