Apple is requiring organizations to have their own Apple account to maintain their app and pay the yearly membership fee of $99 unless you are a non-profit in which case the fee is waived.
This is just a ploy to increase profits by having the customer pay a yearly fee to keep it available.  Therefore please follow the steps below on creating an Apple Membership and read all steps before starting.
Login with existing Apple ID or create a new Apple ID. You can use your existing Apple ID.
Once you are logged in start the enrollment process
There are three options for Entity Type you can choose so please read below the advantages and disadvantages
If the Entity Type chosen was Company / Organization or Government Organization please continue to Granting Exposure Access section below.
Individual / Sole Proprietor / Single Person Business
If you need to get an app up right away and don't have a DUNS number, then this is your best option.  You can always switch the account to a Company / Organization or Government Organization at a later date but you will have to pay the membership fee the first year if you were planning to waive the fee.  
Quickest way to get an account up quick, DUNS number can take up to five days to retreive.
Must pay $99 membership fee, but can upgrade account later to waive yearly fee with DUNS number and Non-Profit, School or Government entity.
No way to connect Exposure to the account so we must have your username/password for Apple so we can finish setting up the app.
Shows the individual name in the app store for the app instead of say the company.
Company / Organization or Government Organization
If you want to waive the membership fee of $99 and you are a non-profit, school or government entity this may be your best option but you must obtain a DUNS number which can take up to five days.  If you go this route please apply for a free DUNS number which works like a EIN or SSN.
Maybe a delay in getting setup if you don't have a DUNS number and must obtain it.
If you are a non-profit, school or government entity, you can waive the $99 yearly membership fee from Apple.
The app will have the organization/company name under it in the app store and not the individual.
Can invite Exposure developers to access account and setup the app without sharing username/password.  You can follow the instructions below for that.
DUNS number troubleshooting
If you run into issues with Apple accepting your DUNS number you received please contact Apple about the error you are receiving with your DUNS number and wait for their reply on what next steps are.
Granting Exposure Access
Follow the steps below if you don't feel comfortable with Exposure having access to your Apple username/password.  If you do please provide your Apple ID (email) and password in the app setup ticket.  We always recommend changing your password first before giving Exposure credentials, then change it back once the app is complete.
The steps below allow Exposure access to an account to submit an app.  The benefit of doing this is that Exposure will do all the work necessary to publish your app for you. If there are any updates required to the app, provisioning profile, distribution certificate, or push notification certificate, this will be carried out by Exposure.
Follow the steps below to first grant access to your iTunes Connect account and then to your Apple Developer account.
Our Apple ID is info@exposureevents.com

Navigate to https://itunesconnect.apple.com and log in with your credentials.


Click on Users and Access button.


The Users list will show and next to the heading you can click on the + sign to add a new user.  View screenshot below for details.


Next, you will enter the user information for this new account in iTunes Connect. The most important piece of information is the Apple ID which is info@exposureevents.com. You can use first name of Exposure and last name of Events.


Check roles of Developer and App Manager.


Under Developer Resources check Access to Certificates, Identifiers & Profiles.  If this option is greyed out then you need to accept the new user agreement.


Finish by clicking the Invite button.


The invitation will be accepted by one of our Exposure employees in which case we will have access to upload or update your app.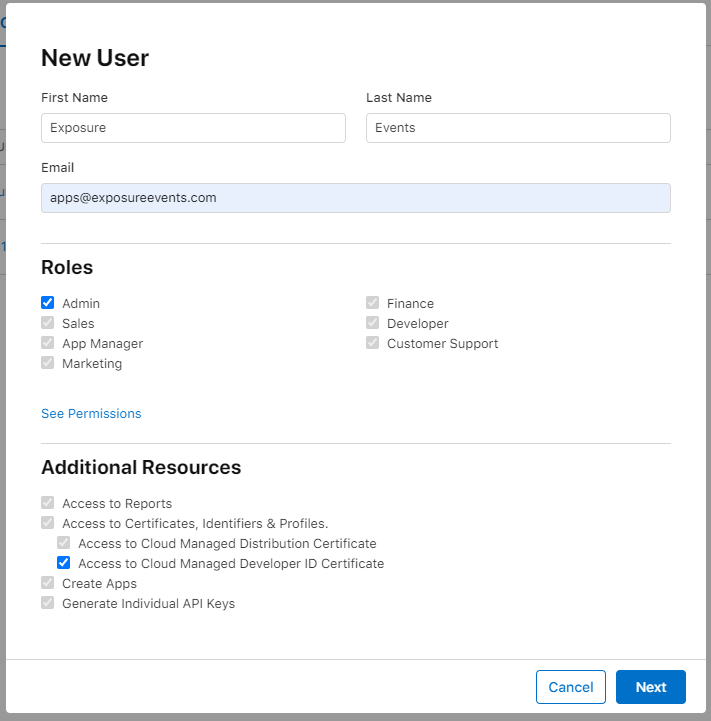 You have successfully invited Exposure to handle all app publishing matters. For more details on any of the aspects mentioned above, please contact your appointed Exposure representative.