AAU girls' licensed events provide the opportunity for participants to engage in seasonal rankings via the Exposure platform. To activate this feature, event directors need to meet and enable the following requirements.
The event is featured on the AAU app.

Event registration must require the utilization of Exposure.

Event registration must require the utilization of coach accounts.

All team coaches and players must hold approved AAU memberships within the Exposure platform; otherwise, the event will be excluded from the rankings.
AAU App

AAU provides a dedicated mobile app accessible on both the App Store and Google Play Store. This app functions as an all-inclusive platform, showcasing AAU licensed events alongside events connected from other event director accounts. It offers users a centralized hub for accessing event information.

Event Registration

Participation in AAU girls' rankings requires that events utilize Exposure's registration system to effectively monitor connected teams. This approach ensures the consistent association of events with their respective teams, enabling accurate and well-managed ranking calculations and tracking.

Coach Accounts

In addition to event registration, coaches are mandated to create user accounts, facilitating seamless management of their respective teams across multiple events. This unified approach streamlines team management within the rankings system, and it's important to note that the option to disable this feature is not available for events connected to the rankings.

AAU Memberships

AAU licensed events requires that all participants maintain an active AAU Membership. This membership must be obtained through the official AAU website and then recorded in Exposure's team roster before the event begins. Exposure's system has the functionality to monitor these teams and showcase those that have successfully completed their rosters with valid AAU Memberships.

Events that do not complete their rosters by ensuring that all participants have obtained AAU Memberships through the correct procedure will be subject to removal from the rankings.

Joining Rankings Process

To take part in the AAU Girl's Rankings you must follow the steps below to make sure your event is setup correctly.

1. Apply For AAU License For Events

Events must be AAU licensed in Exposure and it can be obtained from the AAU Membership page. Once you have your AAU license number you can enter it for your event below.

2. Register An Exposure Director Account

The first thing to do is to register for an event director account on Exposure where you can add and maintain events for registration and scheduling. If you already have an account you can proceed to the next step.

3. Add Events Into Exposure

If you get stuck please use chat on Exposure for online help, but please follow steps first.

After logging into Exposure, adding events is the next step. It requires an Organization, Season, before details about the event are needed so be sure to follow all steps.

Enter the an AAU License number your obtained in step 1 for the event under the Event Details, Description, Certifications section. A screenshot of the section is below.




After entering a valid AAU license for the event the following message will appear to accept the event into the rankings. If declined is used the event can still be ran through Exposure withou being a part of the rankings.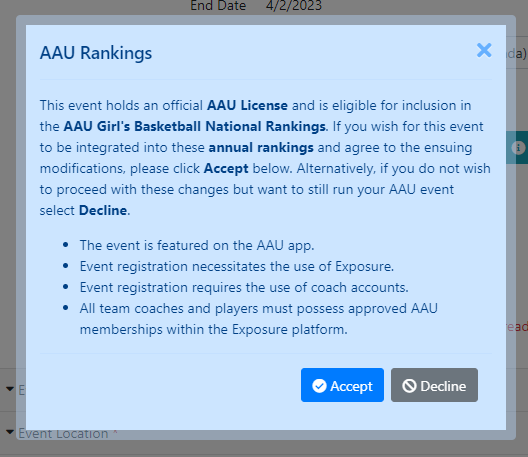 With this acceptance the following settings will be changed for the event. The AAU license number will be read only and can't be changed. Account registration will be enabled for the event and can't be changed.

4. Setup Registration For Events

Registration is mandatory through Exposure to ensure a smooth integration with rankings. To learn how to complete this process, please refer to the Registration Setup article.


5. Apply Ranking Rules To Correct Division

If an event is designed to accommodate competitions for different divisions (such as 4th Grade D1 and 4th Grade D2), it is crucial to assign the appropriate ranking rules to each participating division. This can be accomplished by following these steps:
Click Events in side menu
Click Event Name
Click Divisions in side menu
Click Division Name
Click Settings in side menu
If the event is meant to be included in the rankings, you will find relevant options under the Division Settings. You will see a section for the current season, which includes Season Division and Rankings. A screenshot of the section is below.

It is essential to complete both of these steps before the event commences to ensure accurate rankings and a smooth competition experience.




6. AAU Rosters Management

Additional columns and fields will become visible to facilitate AAU-specific functions and presentations. These can be reviewed in detail in the AAU Rosters article. It's essential to ensure that each roster entry includes a valid AAU membership to gain approval for participation in the rankings. An AAU representative will be monitoring this to make sure the event is in compliance before it starts.