The following article shows how to setup Exposure Cloud with StatCrew Legacy to display live stats.  Exposure Cloud works on Windows 7 and up.
Team and Roster Input
For Exposure to process the Team and Rosters in the StatCrew XML files that come over the following criteria needs to be met when adding team names and rosters.  You can get the team name from the Exposure Cloud and the players from the Roster tab if Exposure has the rosters for the game.
The players under the Roster tab each have a Copy button you can click to copy the name.  If you paste into into Stat Crew Scoring & Stats Entry like the screenshot below, no spelling mistakes will be made by right clicking on the top left icon.  You can sometimes right click within the application itself to paste, but this has not been verified yet.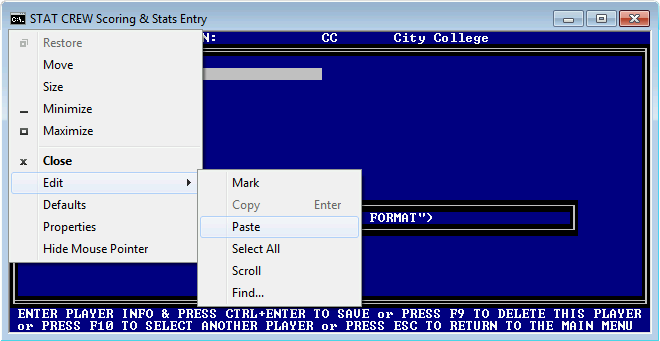 Team names must be exactly the same as the name in Exposure.  If the name needs to be shorter in StatCrew we will match the from the start of the team name, but they still must match.

Exposure Team Name: Urban DFW Elite
StatCrew Team Names: Urban DFW Elite or Urban DFW
Invalid StatCrew Team Names: U. DFW Elite or Urban DFW E.


Player names must also match instead of the number since jersey numbers are unreliable.  We will match on full last name, followed by a comma, then one or more characters of the players first name or by full first name and then one or more characters of the players last name.

Exposure Player Name: Jordan,Michael
StatCrew Player Names: Jordan,Michael or Jordan,Mich or Jordan,M. or Michael Jordan
Invalid StatCrew Player Names: Jordan,Mike or Jordan,Michael J. or J,Michael or M. Jordan or Mike Jordan
If a spelling mistake is made, the Director can add an email under his Event Settings Statistics section that will alert the email address about missing teams or players not found in Exposure, but found in StatCrew in which case the issue can be fixed.  This happens after a game is complete and processed.
Notes: We update the player number in Exposure from StatCrew from the matched player to keep things synced and consistent.
Game Stating
Windows Updates must be up to date, meaning install all updates, including optional, that are outstanding on the Windows 7 or up operating system.  The update we want installed has Microsoft .NET Framework 4.7.2 or up within it.   Once installed you can see Microsoft .NET Framework 4.7.2 listed under the Windows Programs window.  




Download Exposure Cloud, install it and run it.


Login to Exposure Cloud using an Exposure StatCrew account created by your director. They should of provided you with the credentials prior to the event.  If not have them follow the StatCrew user setup instructions.




Select an Event to Stat from the Events dropdown.  If no events were found the director hasn't added you to this event yet to stat.  They can do this under the Users section of their director dashboard, under your StatCrew user profile.


Choosing an event will load games for that event.  Find the game to stat and click the Export button to load the game into StatCrew.  You will need to do this before each new game.


Open StatCrew Game Reports and select your game. 


Select Live from the menu bar and click Live Setup.  You will notice the Xml filename will be the same was the game ID you exported from Exposure Cloud.  Check Activate and click OK button to finish.  If you aren't using TasFTP for another FTP site, please disable Auto-send FTP by unchecking it under FTP settings.

You should verify Target Directory under Copy file settings below is same as Target Directory under Settings tab of Exposure Cloud.  Also verify that the folder exists on the computer.

The first time Exposure Cloud transfers a game you may get a popup requesting your computer to Allow access to Exposure Cloud through the firewall.  Be sure to enable this or games won't transfer cause the firewall on your computer is blocking it.

For a quick test under the Live menu item click Send stats files.  You should see Copy Complete... bottom left in Game Reports and a green "Successfully transferred..." message under the Exposure Cloud System Events under the Home tab.





Start scoring your game in TAS. Stats should be automatically transmitted as they update.


When changing to another game, you must stop stating and close out the game in TAS and Export the new game from Exposure Cloud before loading it in Game Reports.  Then within Game Reports click Live and select Live Setup. Deselect Activate and click OK.   


Select a new game from your Game List in Game Reports and select Live and click Live Setup. Select Activate if not already selected and click OK.  The new game should be loaded for TAS.


Please test your setup by stating a game and verifying you can view the live stats.  Click the Live button next to the game in Exposure Cloud to verify your file went over and able to display.  It should look like this page. This page is directly reading the StatCrew xml that Exposure Cloud transferred over.

To clear this game from the schedule have the Director delete the StatCrew XML file under the Game Details of their Director account and remove the Statistics ID.
Common Mistakes
Loading a game in Game Reports before Exporting the game from Exposure Cloud.  This will overwrite your previous game if you don't export the game from Exposure Could before loading it in Game Reports because the old game ID will still be under the Live Setup.


Team or player not showing up in Exposure web displays for Box Score and Stats.   Verify the names of the Team or Player are correct.  Read the Team and Roster Input section above.  If an update was made please give it time to uncache.
Troubleshooting
Installation Errors

Refer to step #1 above.


Game not transferring in Exposure Cloud when a stat update is made in TAS.

See step 6 above.


Game ID not updating when transferring from Exposure Cloud when switching games.

See steps 8-9 above.


FTP transfer doesn't seem to be working at my location.

You may also have a firewall or anti-virus blocking the transfer.  Disable your firewall or anti-virus and try to see if the file successfully makes it through.


Program Doesn't Run When Opened On Newer Versions of Windows

Newer versions of Windows have new security measures for applications not signed with Authenticode.  To allow Exposure Cloud to open you must disable or prompt to allow the application to run under Internet Options, Security Tab, Select Internet, Custom Level, and Disable or Prompt Run Components not signed with Authenticode.